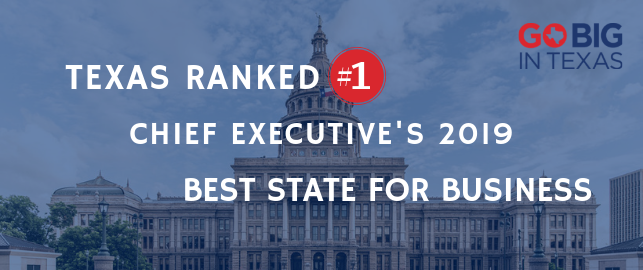 The Lone Star State tops Chief Executive's 15th annual Best and Worst States for Business survey. 
Texas secured the No. 1 spot on Chief Executive's Best and Worst State for Business survey. Texas achieved the top spot each year since the ranking's inception. The rankings reflect CEO perceptions of best and worst states for business based on a  range of key measures. The Lone Star State's  dominance in this ranking is thanks to its hospitable business climate, top-notch workforce and high quality of life.
Texas was followed once again by Florida at No. 2, while North Carolina fell to No. 4, replaced by Tennessee at No. 3, and Indiana remained at No. 5.  As Jim Lentz, CEO of Toyota Motor North America, put it: "I want to be an employer where people want to come, and in the case of California, the cost of living was eroding the quality of life. In Texas, the hospitality of the South and the pioneer spirit of the West and the values of the Midwest all blend together to create this very positive climate that results in a great quality of life." California again ranked  at the very bottom on the list.  According to Chief Executive, "The divergent fates of California and Texas are illustrated  in a single development. Toyota is very happy that it yanked its sales and marketing operations from Southern California two years ago and consolidated its nationwide U.S. staff of 4,000 people at the newheadquarters in the Dallas area.